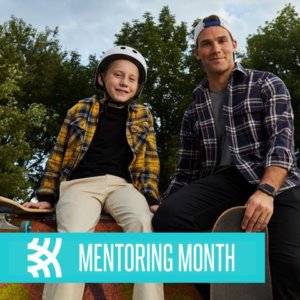 January is National Mentoring Month and this year Big Brothers Big Sisters of Greater Moncton is celebrating the annual campaign #MentoringAmplifies. Our goal is to expand quality mentoring opportunities, connecting more of our community's young people with caring adults. National Mentoring Month is a great opportunity to celebrate the power of mentorship and the positive impact it has on not only our young people, but also on the mentors, our families and the community as a whole.
During National Mentoring Month, interest in Big Brothers Big Sisters of Greater Moncton's programming is at its highest.  This year we are encouraging the public to join the mentoring movement by becoming a volunteer mentor or enrolling a young person in need. Mentoring relationships are at their best when connections are made between a caring adult and a young person who knows someone is there to help guide them through real life decisions.
Research shows that mentors play a powerful role in providing young people with the tools to make responsible choices, attend and engage in school more regularly, and reduce or avoid risky behaviour. Yet, the same research shows that one in three young people in our country will grow up without a mentor. With the challenges of COVID-19, we all must respect the need for physical distancing but we refuse to let our young people feel socially isolated. The need for mentorship is greater now than ever, that's why we have innovated our programming to offer virtual mentoring for the very first time.
Interested in becoming a mentor or do you know someone who'd benefit from mentorship, please visit our website or call for more details!   You're never alone in this process, we have professional and experienced staff helping to guide you every step of the way.