Chasing Birds for a Good Cause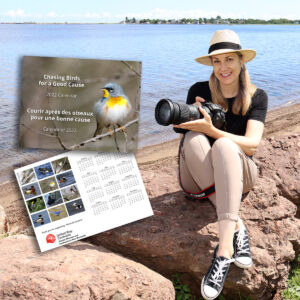 Our Executive Director has continued to chase birds for a good cause! This year again, to support the incredible work that United Way does for our community and to thank them for their ongoing support to Big Brothers Big Sisters of Greater Moncton, she decided to create another calendar and donate all of the proceeds to their annual campaign. Please help us support our local United Way by purchasing a calendar. They are only $20 each.
Notre Directrice générale a continué de courir après des oiseaux pour une bonne cause! Cette année encore, pour soutenir le travail incroyable que Centraide accomplit dans notre communauté et pour les remercier pour leur soutien continu à Grands Frères Grandes Soeurs du Grand Moncton, elle a décidé de créer un autre calendrier et de faire un don de tous les profits à leur campagne annuelle. Aidez-nous à soutenir notre Centraide local en achetant un calendrier. Ils ne sont que 20 $ chacun.
Please direct all e-transfers to accounting@ywcamoncton.com and include CALENDAR in the description.
Chèques can be made to YWCA Moncton, 135 rue Kendra Street, Moncton, NB, EIC 9V9.
Big Brothers Big Sisters of Greater Moncton and YWCA Moncton are proud United Way GMSENB partners! When you donate to the United Way, your gift stays local to help families right here in our community. Thanks for supporting the annual United Way campaign!